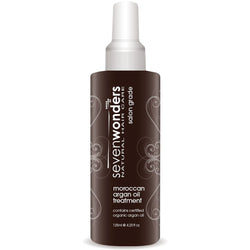 Moroccan Argan Oil Treatment 20ml / 125ml
ABOUT IT:
Hydrate your hair and soothe an irritated scalp with our Moroccan Argan Oil Treatment.
A superhero of a beauty oil, you can moisturise your skin with it, too - minus the greasy residue.  Flaky, dry skin really, really loves it.
Crammed with Vitamin E, F, A and C, and rich in Omega 6 and other essential fatty acids, the Moroccan Argan Oil Treatment will nourish, heal and strengthen your hair, protect from heat damage and boost shine.
It can be used on all hair and skin types and is free of sulphates and parabens.
HOW DO I USE IT?
Apply a small amount to clean, towel-dried hair from mid-length to ends. Blow-dry or let it dry naturally.
Can be used on dry hair to tame flyaways and smooth hair, too. 
We stand by our products
We stand by our products and implement strict quality control. If you are not satisfied with the Seven Wonders product you are using, simply return the unused portion to us, with your proof of purchase and we will refund your money. Please see our policy below.
100% Money Back Guarantee Terms & Conditions:
If you are not satisfied with the Seven Wonders product you are using, please return the unused portion with all of its original packaging to: Seven Wonders; 1 Corbusier Place Balcatta, Perth WA 6021. We will refund the purchase price of the product once the following conditions have been met. Money Back Guarantee is valid for purchases within Australia ONLY. Claim for refund must be made within 90 days of the purchase date. You must provide the original purchase receipt (copies not accepted). Purchase must be from an authorised Seven Wonders retailer. Refund does not include any postage or freight charges you may have incurred when purchasing this product or sending it back to us for your claim. Maximum refund will not exceed the recommended retail price of the product on date of purchase.